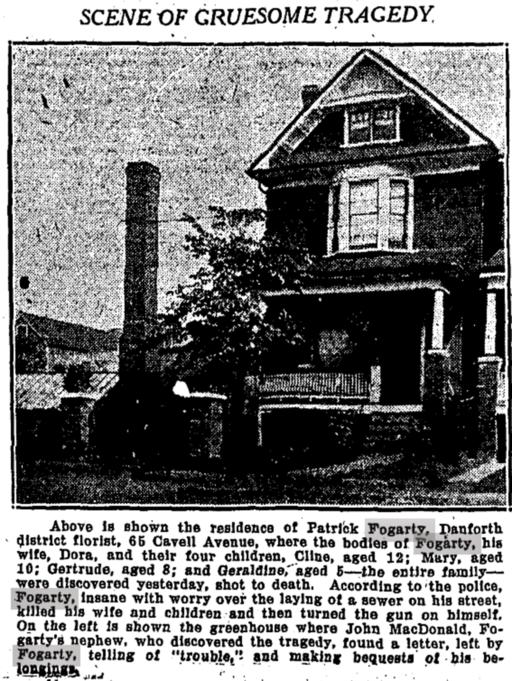 A crowdsourced, historical record of
65 Cavell Avenue
Does
65 Cavell Avenue

have a dark past?

This listing contains user-submitted reports documenting historically significant events and personal experiences at 65 Cavell Avenue, Toronto, ON, CA, including reports of criminal activity, homicides, deaths, famous residents, and alleged paranormal occurrences. If you have more information about this address, let us know.
Information Reported
On July 7 1926 Patrick Fogarty (50) shot and killed his wife Dora (42) and his 4 children, Cline (12) , Dorothy (10), Gertrude (8) and Geraldine (5). Patrick Fogarty was driven to a state of madness due to the city planning to install sewers on this street. Fogarty, a gardener with several green houses thought his taxes would go up and he would lose his business. The six family members are buried at Mount Hope Cemetery in Toronto.
---
Have something to say or share about 's report?
Nearby
Properties in the Housecreep database that are near 65 Cavell Avenue
Man savagely murdered by lover: Said Saidi, 38, was savagely beaten and stabbed to death by Nasrullah Kazim-Hosain who was convicted in 1991. View Listing »
Man gets life for fatal knifing Slain street kid called 'Glue Bag': A man who fatally stabbed a drunken "street kid" for no apparent reason has been sentenced to life imprisonment with no chance of parole for at least 10 years. Darryl Wesley Sutton, 22, of no fixed address was originally charged with first-degree murder but pleaded guilty to second- degree murder. His co-accused is Clinton Dallas Beam, 30, of Jones Ave. in Toronto. Beam was also originally charged with first-degree murder but pl… View Listing »
Man shot to death in hallway: Kempton Clayton Howard, 24, was shot and killed in the hallway just outside his mother's apartment. Craig Scotland and Aslyn Walker were convicted of the murder in 2008. View Listing »
Woman dies in 3-alarm fire: An 81-year-old was asleep in a bed on the ground floor, when a fast-moving fire erupted. After the flames were extinguished, the roof of the three-storey house was sitting on top of the debris at street level. View Listing »
Woman stabbed to death: Thi Lan Pham, 28, was stabbed to death. Duy Linh Vu was charged with the murder. View Listing »
The Vault
Find the exact addresses of 27,000+ murder homes, famous houses, allegedly haunted houses, and other noteworthy properties from all over the world.
Our Community
Meet our community of sleuths